FolkFire March/April 1996 Issue Articles
---
---



Unusual Musical Event To Be Hosted Here
by Karen Isbell


The St. Louis Shape Note Singers will host the eleventh annual Missouri Singing Convention on March 9 & 10, 1996 at Webster University. The free event features powerful a cappella folk hymns known as "shape note" or "Sacred Harp" singing. About 100 singers are expected from the Midwest and South.
All lovers of a cappella choral music are invited, to sing or to listen, although this is a participatory event and not a concert.
This almost-lost a cappella religious music began in 18th century America and features dispersed harmonies and haunting poetry. The "shape notes" are different shapes to designate Fa, So, La, and Mi on the scale. They serve as a teaching aid for sight reading the music, which is otherwise written in standard musical notation. Special shape note hymn books are available to borrow or lease.
The Saturday and Sunday singings are set for the Music Annex on the campus of Webster University in Webster Groves. It is located northeast of the Loretto Hilton Repertory Theatre.
Registration each day begins at 9:30 am, with singing from 10:00 am to 3:00 pm, with a break for pot luck lunch.
For information or directions, try the FolkLine extension 1 3 1 or call Karen Isbell at 314-535-2700, extension 124, or Dave Ressler at 314-776-7477 and leave a message.

---
FolkFire Elections Notice


FolkFire is holding its annual election for the board of directors in June. Ballots with a list of candidates will run in the next issue. Being on the board of directors takes a lot of hard work; we welcome your participation. If you wish to be a candidate, you must submit your name and a brief description of yourself by April 1, the copy deadline for the May/June issue. You may nominate yourself, or someone else with their permission. No write-ins at vote time will be accepted. (You can even use the handy nomination form on page 23.)
Look for the ballot in the next issue of FolkFire.
---
Flamenco Society
by Rebecca Kettler Nemec & Marisel Salascruz


The flamenco, a fiery, tempestuous Spanish dance, dates back many centuries to the Roman times with roots in India where the Gypsies originated. This traditional song and dance of Andalucia, in southern Spain, varies from region to region. Some dances are intensely profound with an often serious and tragic tone, and yet others very light and full of exuberance, love and nature.
For those that enjoy intense rhythm and depth of emotion, this dance is just for you. The flamenco is more than a toe- and heel-clicking dance accompanied by castanets. These dances require precise foot, hand and arm work in unison with graceful body movements.
The St. Louis Cultural Flamenco Society, founded in 1983, formally teaches the flamenco to men and women of all ages. Dancing masters such as Marisel Salascruz, from Andalucia, Spain, offer reasonable classes during the week. With the help of the Missouri Arts Council and the Regional Arts Commission, the Company has a yearly concert designed for children in Junior and Senior High Schools and a concert open to the public with performers brought directly from Spain. The company also offers workshops in the summer and a "Dinner Show" that introduces authentic Spanish dishes.
Seeing, though, is only part of the experience. Come join us for evening classes and workshops that not only teach you how to dance, but also about the culture and customs of Spain. For those interested in the classes or programs, you can contact The St. Louis Flamenco Society, P.O. Box 21818, St. Louis, MO 63109, or call Marisel Salascruz at 781-1537.

---
Great Vacation Getaways
Double Vintage Dance Week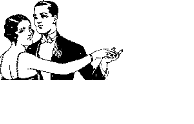 Paris, July 1-7
Prague, July 7-14
Enjoy two weeks of dancing in Europe's most beautiful cities. Each week features five days of vintage dance workshops taught by the dance masters: Richard Powers (US), Michelle Nadal (France), Zivana Vajsarova (Czech Rep.), Joan Walton (US), Yvonne Vart (France) and Jason Bonus (Czech Rep.) Group travel rates are available and a choice of both triple star accommodations or budget accommodations. Deadline for registration is April 30, 1996, so make your plans early.
For more information, write to:
Dvorana Spanielova 38/1275
163 00 Praha 6
Czech Republic
Or phone Jasan Bonus at +42 2 301 8279 (w) or +42 2 302 1330 (h)
or email at dvorana@login.cz

Folk Dance Tour of Greece
July 20-August 3
This folk trip to Greece includes escorted walking tours, dance classes, and survival Greek lessons. Learn about the culture of Greece, tour historical remains and celebrate at a village festival.
Prices and a complete itinerary is available by contacting David Henry, 4514 Neer Ave., San Antonio, TX 78213-3619 or 210-530-0694.

Folk Dance Cruises
Danube River, 12 day cruise begins at Budapest with air, transfers, hotel & cruise starting at $2695. Begins on June 27, 1996.
Alaska Inside Passage, 14 day cruise begins in Vancouver and starts at $1995. Begins July 30, 1996.
New Zealand, 12 day cruise begins in Auckland with air, transfers, hotel and cruise starting at $2650. Cruise is scheduled for March 1997, call about the early registration discounts.
For more information about these cruises, contact Mel Mann, 1301 California St., Berkeley, CA 94703 or phone 510-526-4033 or email melmann@aol.com

50s & 60s Rock and Roll Cruise
May 11-18
This "Western Caribbean" Cruise will feature Paul Revere & the Raiders, Bobby Vee & Mary Wilson. Dancing nightly, sightseeing daily. Ports of Call: Miami, Ocho Rios, Grand Caymen, Playa del Carmen / Cozumel, Great Stirup Cay, and more. Price starts at $809 per person. Airfare and port charges are additional. For information, call 618-235-8265 or 314-227-1015.